Print
Restaurant "Continent" has been acknowledged the best restaurant of the hotel complex
12 Apr, 2011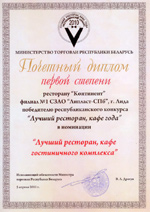 On April 5, Minsk hosted an official delivering of diplomas to the winners of the country contest held under the auspices of the Ministry of Trade.
The restaurant "Continent" which is owned by our enterprise was nominated in the category of "Best restaurant, cafe". It was awarded a First Grade Diploma and was acknowledged the best restaurant of the hotel complex.
The restaurant services include arrangement and holding of banquets, drink receptions, weddings, anniversaries, presentations, business lunches, seminars, and carrying out show-programmes.
Welcome to our trade centre "Continent" — may you have fun!